Books and maps
Note: Some of these titles may be out of print, but they're often available vendors of secondhand books.
Guidebooks
Knopf Guides: Venice
Flexible plastic binding
1993, US $25.00
ISBN 0-679-74918-7
This may be the most comprehensive and elegant guide to the city of Venice, with hundreds of photographs and color illustrations supplementing the highly readable text (translated from the French by Anthony Roberts). The emphasis is on history, architecture, and art, but you'll also find a large section of practical advice and maps.
Eyewitness Travel Guides:
Venice & the Veneto
Paperback
1995, US $22.95
ISBN 1-56458-861-0
The British firm of Dorling Kindersley is famous for its visual encyclopedic guides, and this title from the Eyewitness series lives up to the reputation of its predecessors. The book is packed with photographs, three-dimensional renderings, historical tidbits, and travel advice. It makes a slight sacrifice of depth to breadth by including chapters on the Veneto Plain, Verona and Lake Gardia, and the Dolomites.
Fodor's Exploring Venice
Paperback
1995, US $19.95
ISBN 0-679-03017-4
A handsome alternative to Knopf's Venice as an all-around city guide, though the binding isn't as sturdy and it lacks the beautiful illustrations of its rival. Jammed with photos, maps, historical sidebars, lively quotations, and practical travel advice. Includes short chapters on Padova, Verona, and Vicenza.
Michelin Green Guide: Venice
Paperback
1996, US $18.00
ISBN 2-06-158701-1
Michelin crams an astonishing quantity of information into its tall and narrow Green Guides, which fit perfectly into a purse or camera bag. The traditional black-and-white etchings have been replaced by color photos, but the maps, building plans, and descriptions are up to the usual high Michelin standard.
The Companion Guide to Venice
by Hugh Honour
Paperback
Revised 1991, US $19.00
ISBN 0-002-15365-3
The third edition of Hugh Honour's acclaimed and quintessentially British guide to the art and architecture of Venice. A typical chapter might include a walking guide to a neighborhood, a floor plan of a church or museum, and an erudite discussion of every painting and sculpture in view. This book is a treasure trove for culture fans who believe that a picture is worth a thousand words of text.
Insight Guides: Venice
Paperback
1995, US $21.95
ISBN 0-395-66289-3
Insight's City Guides combine stunning photography with literate text and a smattering of basic travel information. Venice is worth adding to your bookshelf, although its heft makes it less practical as a take-along guide.
Venice: The Rough Guide
Paperback
1993, US $13.99, CAN $17.99, UK £8.99
ISBN 1-85828-036-2
Black-and-white printing on uncoated paper make this paperback guidebook an ugly duckling next to its competitors. But the price is right, and the book is a useful guide to Venice and the Veneto region.
The Venetian Ghetto
by Roberta Curiel and Bernard Dov Cooperman
Hardcover
1990 (Unpriced)
ISBN 0-8478-1236-7
A lavishly illustrated, large-format guide to the streets, monuments, and art treasures of Europe's oldest Ghetto. The introduction tells the fascinating story of how Levantine Jews and Jewish refugees from other European countries built a prosperous community in the Venetian Republic.
Background reading
The World of Venice
by Jan Morris
Paperback
Revised edition, 1993, US $13.00
ISBN 0-15-698356-7
This book (titled Venice in the UK) was first published in 1960 under the byline of James Morris, when its English author was a foreign correspondent living in Italy. The current edition's seamless blend of history, social commentary, and personal travel narrative make it the definitive "must read" introduction to Venice and her people.
Venice: The Four Seasons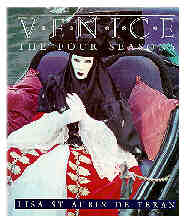 by Lisa St. Aubin de Terán
Hardcover
1992, US $30.00
ISBN 0-517-58959-1
Paperback Edition
1996, US $22.95
ISBN 1-85793-726-0
In 1986, British novelist Lisa St. Aubin de Terán moved to Venice with her painter husband and two children. Venice: The Four Seasons is a personal account of her family's subsequent life in Venice, with observations on topics that range from neighborhoods to seasonal events. The prose gets a bit florid at times, but this is a delightful volume for anyone who dreams of occupying a flat or palazzo in Europe's most beautiful city. Scores of color photographs by Mick Lindberg add to the book's appeal. (The hardcover edition's cover photo is shown here.)
The Venetian Hours
of Henry James, Whistler and Sargent
by Hugh Honour & John Fleming
Hardcover
1991, US $29.95
ISBN 0-8212-1861-1
Venice was a haven for English-speaking expatriates in the 19th Century. Henry James wrote of Venice in his "Italian Hours" essays, while artists James McNeill Whistler and John Singer Sargent preserved the declining empire's crumbling beauty in drawings and watercolors. The Venetian Hours brings art history, four of James's essays, and 130 works of art together in a handsome book from two eminent scholars who have lived in Italy for more than 30 years.
A Venetian Bestiary
by Jan Morris
Hardcover
1982, US $14.95
LC 82-80249
You'll probably have to comb the used bookstores for this attractive book, which celebrates a "mighty menagerie of fact and fancy" from cats and barge dogs to the Golden Stallions and Winged Lion of St. Mark. The lively text is accompanied by black-and-white photos and color plates, some of artworks and others portraying four-legged Venetians of the modern era.
Dead Lagoon
by Michael Dibdin
Paperback
1994, US $12.00
ISBN 0-679-75311-7
Michael Dibdin isn't just a winner of the Crime Writers Association's Gold Dagger award--he's also one of today's most literate writers in any genre. Dead Lagoon is an evocative, stylishly written mystery novel that captures the spirit and mood of Venice in the 1990s.
Farewell to the Flesh
by Edward Sklepowich
Paperback
1993, US $4.99
ISBN 0-380-71814-6
The American biographer Urbino Macintyre stars in the second mystery by the author of Death in a Serene City. Their tone may be too arch for some tastes, but Sklepowich's novels make good beach reading--especially if the beach is on Venice's Lido.
Maps
City Map: Venedig/Venezia
Hallwag
Scale 1:5500
$9.95 (U.S.)
ISBN 0-528-91527-4
Many leading cartographic publishers offer Venice maps, but this one--from the German firm of Hallwag--is among the most readable of the large folding street maps. Look for the map with the bright red cover. (Another good choice is the Touring Club Italiano map, which has a green cover.)
Venezia
Touring Club Italiano
Scale 1:4500
ISBN 88-365-0605-4
This spiral-bound, indexed street atlas from the Touring Club of Italy's Atlanti di città series is indispensable for anyone who plans to spend more than a day or two in Venice. Its 50 pages of maps show the city and major islands of the lagoon in exceptional detail, complete with waterbus routes and landings. The TCI atlas is small enough to open in a crowded street or a tourist-packed vaporetto. (See photo, above left.) .